Single Driver Loudspeaker Cabinet Design



|< 15" >| |< 10-1/2" >| |< 15" >|


Front View Side View Top View

Specifications:
This is my new Loudspeaker Cabinet Design with a 15" x 57" Front Panel having a 2-1/4" chamfered
edge along the sides and top for a < 6 - 1/2 " > single full range loudspeaker. The large Front Panel
is to combat the Baffle Step, no compensating baffle step and zobel network is used.
My previous speakers had a 21"x48" flat front panel with a rounded edge all around, it provided a
slightly elevated response in the 300 to 500 hz region which added a little warmness to the sound.
The new design eliminated this, but kept the approximate same baffle step gain.
This drawing is a schematic only to scaled proportions and uses 3/4" Baltic Birch Plywood as cabinet
wall material. The Cabinet volume is a min.of 30 liters utilizing a bass reflex/aperiotic vent design,
after deducting for bracing and speaker volumes.

Thanks to Paul Verdone who provided the freely available interactive Excel Software, I was able to
simulate the individual driver response and baffle step gain.





Individual Driver Response and Baffle Step Gain Simulation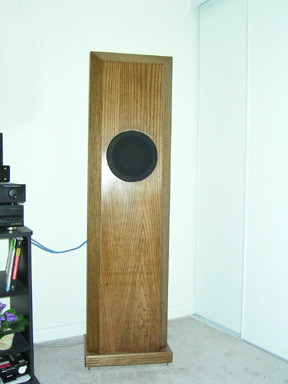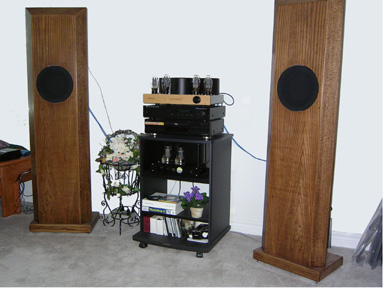 This is what the actual Speaker Cabinets look like